We are so excited to announce and introduce our 2023 Advisory Board!
We received over 360 applications from around the world and selected a thoughtful group of inspirational and engaged youth who are making a meaningful impact in their communities. This team of Advisors will play a pivotal role in the planning and execution of programs and campaigns core to the Foundation's mission to make kindness cool, validate the emotions of young people everywhere, and eliminate the stigma surrounding mental health. 
"We are honored to introduce our newest Advisory Board and kick off 2023 with such an inspiring group of young leaders," said Cynthia Germanotta, Co-Founder and President of Born This Way Foundation. "Born This Way Foundation's work is done for and in partnership with young people, and we are grateful for the perspectives, knowledge, and experiences that each Advisor brings to our team and work. We are moved by this group of individuals' commitment to building a kinder and braver world and look forward to our work alongside them." 
Advisory Board members will work directly with Foundation staff on a regular basis; advise the Foundation on programming; serve as ambassadors of Born This Way Foundation and its work online and in their communities; and share their experiences on Channel Kindness, a digital storytelling platform created by Born This Way Foundation that serves as a safe space for young people to share stories of kindness, resilience, and community and take intentional kind action in support of themselves and others.
Keep scrolling to learn more about, welcome, and celebrate our incoming 2023 Advisory Board members.
Adia F.
Adia F. (she/her) is a 20-year-old mental health and suicide prevention advocate from Los Angeles, California. Her passion for eradicating the stigma surrounding mental health and suicidality began during her work in high school at Teen Line as a hotline listener, outreach presenter, and intern. She volunteers at Didi Hirsch Suicide Prevention Center as a crisis counselor for 988 Crisis & Suicide Lifeline and is a full-time undergraduate student pursuing a degree in Psychology at Point Loma Nazarene University. Most recently, she spent her summer as a Nonprofit Resource Development Intern at Bring Change to Mind.
She is part of Rare Beauty by Selena Gomez's inaugural cohort of Rare Impact Mental Health Ambassadors and was the 2022 Mental Health is Health Youth Ambassador for Didi Hirsch Mental Health Services.
Adia is exceedingly passionate about embracing hope-centered and human-centered approaches to youth mental health through utilizing Born This Way Foundation's tenets of kindness and bravery.
Adrian S.
Adrian S. (he/him) is a fiery activist and freshman at Stanford University who hopes to use his experiences growing up queer in a Catholic community to uplift those struggling with mental health. As a Youth Ambassador for the Human Rights Campaign, Adrian frequently observes the mental health crises prevalent among LGBTQ+ individuals and hopes to work towards visibility and change, especially within the U.S. healthcare system itself.
Having battled through several mental health struggles, he hopes to use his position as an aspiring pre-med student to advocate years into the future for mental health reforms in the LGBTQ+ and underrepresented sphere.
Audrey W.
Audrey W. (she/her) is a Taiwanese-American coder, changemaker, and community volunteer from the Bay Area, California. She strives to use her grit and superpowers in technology to advocate for social change, particularly mental health and inclusion. Recently, she coded a platform named Affective Cookies, which inspires the user to reduce cyberbullying through inclusivity and empathy. Audrey leads her peers in building friendships with students who have intellectual and developmental disabilities (IDD), as she strongly believes in the vibrance and perspectives that neurodivergent individuals bring to the world. She has been recognized as the youngest 2022 Bay Area Inno Under 25 recipient and is an Apple WWDC22 scholar. She also loves writing Chinese calligraphy, performing diabolo (Chinese yoyo), and exploring nature.
Caitie D.
Caitie D. (she/her) grew up in the Highlands of Scotland and is currently an undergraduate student studying History and Politics at the University of Glasgow. As an individual with a strong moral compass, she is an experienced youth advocate and has dedicated herself to causes she is passionate about since her young teens.
These past endeavors have brought her into meetings with the Scottish Cabinet promoting the importance of youth work, to trusteeships of organizational boards, and to the planning seats of multiple national campaigns on issues ranging from the UN Convention on the Rights of the Child (UNCRC) to the ongoing climate crisis. She has continued to advocate for social justice by volunteering in the third sector and developing her professional experience in an internship with the Scottish Parliament through the John Smith Centre Award.
Seeing friends, reading, and going to gigs are her passions outside of her academic and professional life. Caitie is excited to bring her skills, experience, and enthusiasm to the Advisory Board. She looks forward to working together to improve society through the power of kindness.
Desmond N.
Desmond N. (they/them/theirs) is a teenager who is making a significant impact on the world. They are a multi-talented individual who wears many hats – from being an LGBTQ+ advocate to a genderfluid editorial and runway model, a motivational public speaker, performer, clothing designer, actor, singer, host, and a social media influencer. Desmond's work has been recognized by major outlets such as The New York Times, NBC News, Teen Vogue, OUT Magazine and many others.
As an LGBTQ+ advocate, Desmond uses their voice and visibility to help break down barriers and create a more inclusive society for LGBTQ+ people everywhere. They are passionate about promoting acceptance, understanding, and equality for all people, regardless of their sexual orientation or gender identity. They have spoken at numerous events and conferences, sharing their personal experiences and providing a message of hope and inspiration to others.
Emily F.
Emily F. (she/her) is a Mexican-American journalist and founder of Cripple Media, the first media company exclusively run by and for young disabled people. Being born with Muscular Dystrophy and growing up as a power wheelchair user, Flores realized the large underrepresentation that there was of young disabled people in the media, and therefore the vast amount of misconceptions that existed surrounding disability. This is why, at the age of 15, Flores created Cripple Media, a digital platform that places young disabled people in positions of power in the media, and thus enables them to take back control of the disability narrative. Cripple's mission is to simultaneously foster a community that has long been ignored, place disability and mental health at the forefront of mainstream conversations, and demand space for disabled creatives in media industries. Flores' work has been recognized by companies such as Disney+, Google, The New York Times, Yahoo, and more.
Faria T.
Faria T. (she/they) is a Las Vegas resident and student at the University of Nevada Las Vegas (UNLV). She is majoring in public health. At UNLV, she has been in leadership roles in a variety of initiatives, including serving as Health + Wellness Coordinator to bring mental health programming and education to Clark County and creating a mental health toolkit and campaign on campus. She has worked with Mental Health America and Futures Without Violence on programming that increases awareness on mental health resources and prevents intimate partner violence (IPV). Faria is passionate about the intersections of public health and identity, and she hopes to aid low-income communities in her own city and beyond borders to ensure mental well-being and eliminate health disparities. In her free time, Faria winds down by skateboarding through the streets and skateparks of Las Vegas and by drinking coffee while socializing at her local coffee shop.
Jazmine W.
Jazmine W. (she/her) is a sophomore at the University of Wyoming, where she is triple majoring in Psychology, Political Science, and Native American + Indigenous Studies. She's spent many years advocating for inclusion, equality, and equity. Jazmine was featured in Teen Vogue for her work advocating for gun regulation and was a speaker at the 2018 Teen Vogue Summit in New York City. She was also featured in Hillary Rodham and Chelsea Clinton's book, "The Book of Gutsy Women." As a United National Indian Tribal Youth Earth Ambassador and 25 under 25 honoree, WeRNative Ambassador, and Generation Indigenous Ambassador, Jazmine continues to speak out about the many issues that are important to her, such as bringing awareness to the violence Native women face, and the need to protect Indigenous women from becoming a statistic. Previously diagnosed with anxiety and depression, Jazmine founded the Nii'iini' Project, which helps youth become activists to make change as a positive coping mechanism. For her work, she was named a Center for Native American Youth Champion for Change, honored by the Conversationalist for her social impact, and is currently working with the Center for Law And Social Policy as a Changemaker for the New Deal for Youth. Jazmine was also honored to participate in the Mental Health Youth Action forum with Dr. Jill Biden and MTV. In her free time, Jazmine coaches multiple Special Olympics sports and recently participated as a Unified Partner with Team Wyoming Softball in Orlando, Florida.
Jennifer L.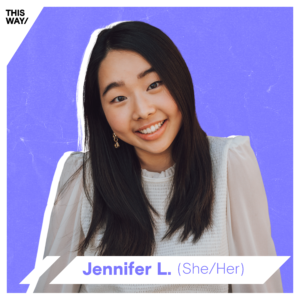 Jennifer L. (she/her) is the Founder of the Asian Americans with Disabilities Initiative (AADI), a 501(c)(3) nonprofit organization that amplifies the voices of disabled Asian Americans nationwide. Jennifer is particularly passionate about the role intersectionality and inclusion play in disability justice, and serves as a 2022 'Youth to the Front Fund' Frontliner from the We Are Family Foundation, 2022 Coelho Law Fellow at Loyola Law School, and 2021 Heumann-Armstrong Education Award recipient. After completing her undergraduate studies in public policy at Princeton University, she will attend Harvard Law School, where she intends to specialize in disability and civil rights law.
You can follow Jennifer on Instagram at @jennifer.lee1
Joseph A.
Joseph A. (he/him) is a Latinx content creator and mental health advocate based in Los Angeles, CA. He has steadily grown his online fan base to over 850,000 followers, creating a community centered around spreading positivity and kindness.
In 2022, Joseph began his studies at the UC Berkeley Haas School of Business, majoring in Business Administration and Media Studies. He hopes to combine his interests in business and entertainment to create a purpose-driven career that makes a difference in his community.
Joseph's hard work and dedication has not gone unnoticed, leading to coverage of his endeavors in various media outlets, including Sweety High, Business Insider, and Medium.
Stay up-to-date with Joseph on Instagram at @josepharujo and on TikTok at @whatisjoseph!
Kemi O.
Kemi O. (she/her) is a high school student from Pennsylvania. She is a huge extrovert who loves making new friends, helping others, and being a positive force in her community. She's a member of the Youth Volunteer Corps and Stand Together Against Racism (STAR) where she serves her community and works to raise awareness and educate about important topics. Kemi is honored to join Born This Way Foundation's Advisory Board and be part of the change. When she's not working on a passion project, or volunteering at an event, you can probably find Kemi watching a Marvel movie, reading a book, or hanging out with friends.
Khloe T.
Khloe T. (she/her) is a 15-year-old international philanthropist. She recognized a common challenge faced by youth was connecting their passion with a sustainable purpose. At the age of 8, she started her own global non-profit organization called Khloe Kares, which helps young people discover and realize their passions. Khloe supports women experiencing homelessness and installs water pumps and bathroom facilities in Ghana schools that don't have access to clean water. The Khloe Kares Leadership Workshop trains youth in leadership, business planning, and public speaking skills. Khloe's mission is to show students how to both set goals and achieve them. She has traveled all over the country to tell her story of how philanthropy has changed her life.
Lela D.
Lela D. (she/her), is a young Liberian medical student passionate about creating positive changes in society. She holds a BSc. Degree in Biology and Chemistry from Stella Maris Polytechnic University-Liberia and a Health and Cultural Exchange certificate from the OST-University and Linth Hospital-Switzerland.
Over the years, Lela has raised funds and implemented several impact-driven projects around her community, including capacity-building workshops for youth and food distribution to less fortunate families during the COVID-19 pandemic.
In 2021, Lela initiated a project called "Help a Mother and Newborn in Liberia," geared towards addressing challenges faced in reducing maternal and newborn deaths in Liberia. Every day, thousands of Liberian women and their babies are exposed to the risk of dying from preventable pregnancy and delivery-related complications. This project ensures that pregnancy or giving birth is not a death sentence for any woman or newborn and supports these women in managing postpartum depression and practicing breastfeeding effectively.
Lela believes everyone has a calling and a purpose in life, and hers is service to others through creating change and expressing humanity.
Livia C.
Livia Caligor (she/her) is an NYC-based writer and photographer who works in media operations. She graduated from Cornell University in 2021 with a B.S. in Fashion Management, a concentration in Communications, and a minor in English. She's worked in marketing, wholesale, and operations at brands including Lafayette 148, Elie Saab, Alexander Wang, and Marchesa; through these international experiences, she developed a keen understanding of the supply chain and issues of sustainability and social responsibility – with bylines in Architectural Digest, teenVogue, and the Folklore, she seeks to use writing to facilitate industry change and make design a more equitable space. Livia is passionate about deconstructing the social stigmas around mental health; she is especially interested in how socio-economic and racial privilege, beauty standards, and industry cultures inform and shape mental health. As a new member of the BTWFoundation, she seeks to address barriers to treatment, especially for kids without the means. In her free time, she loves reading, boxing, photography, and drawing and is an avid member of the little monster community!
Follow her Instagram @livia.caligor and her photography page @puddlesbylivia
Malavika R.
Malavika R. (she/her), 18, is the award-winning author of two books exploring themes of cybercrime and child trafficking that have been featured at international book fairs and in national media. She is the founder-executive director of The Informed Inquirer, a youth-led media organization striving to keep Gen Z informed and create opportunities for young journalists, where she oversees a team of more than 20 people. Malavika regularly speaks at book fairs, universities, and schools, and strongly believes in the power of the written and spoken word in giving young people agency and promoting their mental health. An alumna of The Stanford Daily's journalism program and The School of the New York Times, her work has appeared in several publications. Malavika is currently a first-year student at New York University Abu Dhabi, studying Economics.
Mariana O.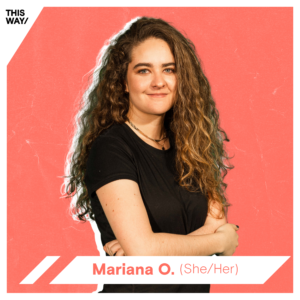 Mariana O. (she/her) is a dreamer, a fighter, and a creator. Born in Mexico City in 1999, Mar continues to thrive in her creative work field. At the young age of 22, her passion for film and television landed her the role of Festival Director for the International University Film Festival LANTERNA 2022 at Anáhuac University (Mexico City).
As a current student majoring in Communication Studies, and specializing in Film and Television Production, Mariana continues to pave her way into the entertainment industry through the power of narrative in screenwriting and directing.
Mariana is also an advocate for destigmatizing mental illnesses and the normalization of using people's voices to ask for help when needed. In April 2022, she went public on social media with her story of struggling with depression, anxiety, self-harm, and an eating disorder in her younger years.
Mariana invites her audience to have honest conversations regarding mental health, therapy, medication, and living with a psychiatric diagnosis. She continues the daily fight to break the stigma regarding mental illnesses and motivates those around her to ask for help when needed, finding a confidant and unconditional supporter in her.
Mariana puts in the daily work on her path toward recovery through the strength and resilience she finds in music, film, reading, yoga, and mindfulness sessions.
Marisa D.
Marisa D. (she/her) is a full-time student majoring in Software Engineering and a programmer. She is motivated by using and creating tech to bring joy to others. She is equally as passionate about sharing her love of technology with others, advocating for youth mental health resources, and working to create equality in STEM. Marisa is also a two-time Hispanic Scholarship Fund Scholar. Outside of school, she loves listening to music, going to concerts, and spending time with family and friends.
Meera V.
Meera V. (she/her) is a mental health activist from Los Angeles, California. Her struggles with mental health cast a dark shadow over many of her experiences as a teenager and were compounded by the cultural shame she faced when seeking treatment as an Asian-Indian woman. The cultural stigma she endured is what fueled her passion for activism at the age of 14. Meera's work focuses on mental health education, suicide awareness and prevention, and mental health policy. Her work has been recognized at a national level when she was invited by President Biden and his administration to discuss the disparities in our nation's mental healthcare system. On a grassroots level, Meera has spoken at mental health panels, conferences, seminars, and to members of government to share her story and propose new initiatives in mental health policy. Currently, Meera is a graduate student at UCLA, studying mental health and public health. Meera's mission is to change the narrative surrounding mental health and encourage people of all communities to get the help they need and deserve. She hopes to be a voice of hope to those who are struggling in silence. Meera wants you to remember: the world needs you here and it's okay to not be okay.
meera-varma.com
Instagram: @meeravarma
Nikoletta A.
Nikoletta A. (she/her) is a fourth-year Bachelor of Psychology (Honours) student who is passionate about trauma prevention and recovery. With aspirations of becoming a clinical psychologist, Nikoletta enjoys using her lived experiences to support others to feel safe and seen. Nikoletta believes that storytelling in all forms is courageous and that no one's story is more important than anyone else's.
Some of her proudest accomplishments include creating an LGBTQIA+ safe space in her high school, where she facilitated group meetings for students aged 13-18 years, co-designing an LGBTQ+ Leadership Program in her local community, and her ongoing work in peer support with LGBTQ+ populations, alongside her experiences working with students, parents, and staff in designing programs to promote mental health and wellbeing in schools. Nikoletta is also passionate about making our communities safe for children and is dedicated to preventing child sexual assault and exploitation, as well as minimizing the prevalence of sexual violence and harassment of people of all ages.

In order to rest and recharge, Nikoletta loves to read, crochet, and be out in nature. Nikoletta is excited to bring the ideas she has gained throughout her experiences in mental health and youth advocacy, peer support, mental health research, service design, and program development to Born This Way Foundation's Advisory Board.
Nikoletta wishes to acknowledge the Wurundjeri People of the Kulin Nation, who are the Traditional Custodians of the land on which she and works and lives.
Oluwaferanmi O.
Oluwaferanmi O. (he/him) is the Youth Vice President of the International Association for Youth Mental Health (IAYMH). His responsibilities include working with the Executive Committee to steer the vision of the organization, strategize and plan the association's conference, and engage young people all over the world on subject matters pertinent to mental and/or public health.
Oluwaferanmi was a founding member of The Panacea Project and has volunteered for numerous community health awareness outreaches. He recognized his passion for advocacy as he strongly believes prevention is a better solution than cure. He has also been involved in social media campaigns promoting health awareness including mental health.
He is a Nigerian and a medical doctor which interests in Public Health.
Oscar L.
Oscar L. (he/him)  is a Government and Business Honors student at The University of Texas at Austin. In 2019, he was named a Google Public Policy Fellow where he worked on issues concerning broadband access, data privacy, and net neutrality. In 2020, Oscar worked as a Policy Fellow with Next Century Cities, where he researched the effects of the digital divide on low-income and marginalized communities. Last spring, Oscar worked on federal climate policy as a White House Council on Environmental Quality intern. A native of South Texas, Oscar is proud to be a fronterizo.
Rahul R.
Dr. Rahul R. (he/him), from India, is a medical practitioner by profession, an over-thinker by force, and a musician by passion. He believes in healing through kindness. His self-produced album focused on tackling social issues, an orchestration through catharsis.
He wants to build a world where kindness is palpable, love is embraceable, and acceptance is breathtaking. A world where open and honest discussions will help alleviate anxiety. A world where a flood of people come together to celebrate love and identity. A world where bravery highlights the importance of community and togetherness.
His Anchor: "You like because, and you love despite. You like something because of all of its qualities, and you love something despite some of its qualities."
You can follow his journey of self-healing and acceptance on Instagram at @rahulrangan
And learn more about him via his website: https://rahulrangan.com
River W.
River W. (he/him) is from the Mi'kmaq First Nation of Natoaganeg (Eel Ground). He works at their community Health Centre as their Prevention and Outreach Coordinator, providing a variety of services to the community.
His role requires him to work primarily in mental health and addictions. River has been in this role for two years and it brings him joy and happiness daily. He has always had a passion to help and by showing kindness and care to his clients/patients, he knows he is making an impact in their lives.
River has strong roots with his Indigenous community and was exposed at a young age to a very accepting, loving, and kind community. These core values can be traced back centuries to his ancestors. He is grateful for the life he has. River shows kindness and care to everyone around him, and he loves to see kindness being paid forward. He is excited to join Born This Way Foundation's Advisory Board!
Sadia F.
Sadia F. (she/her) is a passionate advocate for youth mental health education. When Sadia was a teenager, she struggled with her mental health and quickly discovered a severe lack of resources and education available for young people. Inspired to make a change, Sadia has spent the last 7 years in the advocacy space working with youth across Canada. Today, Sadia is actively working with jack.org to continue her efforts. She is a production coordinator merging her love for social media and creative content production with her passion for mental health advocacy.
Sam G.
Sam G. (he/him) is an undergraduate junior and co-founder of Kick It for a Cause, Inc., a charity kickball tournament turned nonprofit organization supporting suicide prevention. In addition to Kick It, Sam works as an undergraduate research assistant at the Hamilton Lab (Rutgers University) and the CALM Lab (Bates College) studying the impact of sleep/social media use on adolescent suicide and multicultural mental health, respectively. Within his advocacy, Sam has previously worked with the American Foundation for Suicide Prevention, the National Alliance on Mental Illness, the National Suicide Prevention Lifeline, the American Association of Suicidology, and was named the 2022 recipient of Mental Health America's mPower Award.
Shruti V.
Shruti V. (she/her) is a senior in high school and will be going to college in the fall of 2023. After dealing with losing a parent at a young age, Shruti learned the importance of mental health awareness and is working to build a community of people who have the same passion. She is currently the podcast manager/chief operating officer of the Global Mental Health Outreach organization, a nonprofit started by high schoolers from around the world. She hopes to be an advocate for teens whose voices aren't heard and whose struggles are undermined, by giving them the support they need when facing hardship. She is also an Indian classical singer and is from the East Bay in California.
Sneha D.
Sneha D. (she/her) graduated from Indiana University in May 2020, where she majored in chronic illness advocacy and journalism. She created Generation Patient and its program, the Crohn's and Colitis Young Adults Network (CCYAN), to develop support systems for adolescents and young adults with chronic conditions across the U.S. and internationally. She is proud to work with a team composed entirely of young adults with chronic conditions and also to keep Generation Patient and CCYAN independent of funding from the pharmaceutical and insurance industries.
Sneha has completed an undergraduate research fellowship in health policy at Harvard T.H. Chan School of Public Health. Sneha spoke on Capitol Hill, has been featured nationally on C-SPAN, and is a past contributor for U.S. News and World Report. She recently joined the Midwest Comparative Effectiveness Public Advisory Council, an independent appraisal committee of the Institute for Clinical and Economic Review. Sneha also serves on the FDA Patient Engagement Collaborative and in a grant-making committee with the Robert Wood Johnson Foundation. She is also an advisory board member of the Yale Collaboration for Research Integrity and Transparency. Sneha was awarded two academic fellowships with the Association of Health Care Journalists. For her work, she was recognized as an American Association of People with Disabilities Emerging Leader in 2020.

Sophia K.
Sophia K. (she/her) is an Iranian-American activist studying science, technology, and society at Stanford University. She is the founder and executive director of Climate Cardinals, an international nonprofit with 9,000 volunteers in 40+ countries working to translate climate information into over 100 languages. She represents the U.S as the youngest member on the inaugural United Nations Youth Advisory Group on Climate Change. She sits on boards and advisory councils for The New York Times, World Economic Forum, Web Summit, Inkey List, Iris Project, JUV Consulting, Ashoka, and American Lung Association.
She has been named VICE Media's youngest Human of the Year, a National Geographic Young Explorer, among Business Insider's Climate Action 30, one of Teen Vogue's 21 under 21, and a Forbes 30 under 30 honoree.
Vaishnavi R.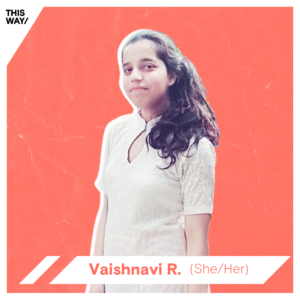 Vaishnavi R. (she/her) is a young changemaker who believes in creating a brave space to talk about the issues that matter. She has the vision to create a circle of change where people can employ relational and interdependent approaches to inspire and uplift each other in bringing meaningful changes to society. She is a strong advocate of the Ubuntu philosophy which says, "I am because we are." Vaishnavi is comfortable having discussions about mental health to address people's psychological and emotional turbulence and thinks conversations create a universal bond that connects humanity. As an aspiring bureaucrat, Vaishnavi is on a self-exploratory journey of identifying her roles and responsibilities more than her rights and privileges in society.
Vee K.
Vee (Varaidzo) K. (she/her) is a 24-year-old YouTuber and Girls' Education Activist. She uses her numerous online platforms to support over 300,000 underrepresented youth to reach their full academic potential. As the Founder of her non-profit organization, Empowered By Vee, she is also providing academic empowerment skills to students who feel unsupported by running her renowned skill-based workshops in schools and universities around the world.
A recent graduate of both Oxford and Harvard Universities, Vee has been recognized for her outstanding contributions to diversity and empowerment, receiving accolades such as the Diana Award Legacy Award from Princes Harry and William, the United Kingdom Rare Rising Star award from Members of U.K Parliament, and the Diversity Champion award from Oxford's Vice-Chancellor. In addition to her work as an author, with the release of her practical self-help book "EMPOWERED" for young people, Vee is also a dedicated volunteer for education-focused charities such as United World Schools, CAMFED (Campaign for Female Education), and GirlUp Zimbabwe.
Vee is a Young Leader for the Sustainable Development Goals selected by the United Nations for the 2022-2024 period. In the near future, she plans to pursue a Ph.D. in Education Leadership and work alongside other changemakers to address the pressing issue of the 130 million girls who are currently out of school.
Vinicius G.
Vinicius G. (he/him) is a Brazilian medical doctor and mental health advocate focused on youth mental health.  A Global Changemakers fellow, One Young World ambassador, and UNICEF-YHP Young Leader for the 2020-2021 cohort, he is a published book author on learning and wellbeing for adolescents. Vinicius is particularly interested in online health promotion and digital health as a tool to increase equity in the mental health field.