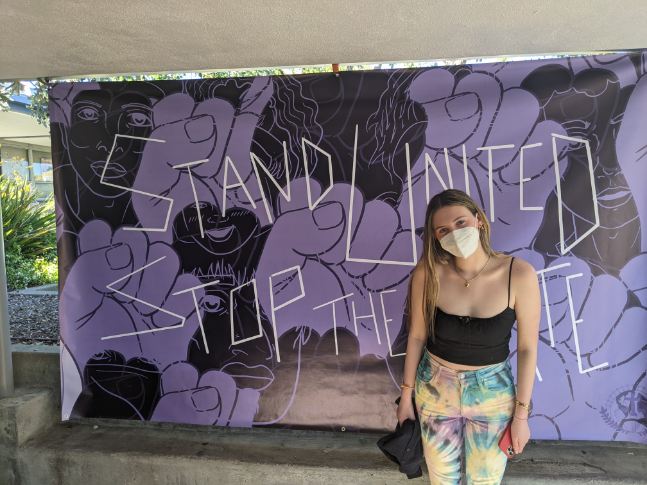 As a junior in high school, I believe my generation must play an active role in driving fundamental social change. I founded Justice Murals to empower students across the country to raise awareness and promote meaningful social justice conversations in high school communities through visual art.
While many schools provide content to address social justice, there are few vehicles for students to share their own authentic dialogue about what this topic means to them specific to their community or school. National protests from the last year and social media outcry have demonstrated that students are looking for ways to make their own statements about social justice issues. Today's youth are well informed about this critical issue that is so relevant across our communities, our country, and our broader world.
Campolindo High School in Moraga, California is the first high school to pilot this Justice Murals program. Students were asked to submit drawings and words about what social justice means to them. The muralist, Jaz Alexander, took these drawings and helped incorporate them into a mural."As a school community, we have come together to create change," one high school administrator said. "The road is long and the journey is ongoing but together we can accomplish greatness. Please take care, be well, be safe and be kind."
Other high schools in the county will be participating in this social justice project in the fall, and these murals will travel from school to school to showcase a broader community-based view of social justice.
Justice Murals created by students will help community members feel heard and weave social justice mindfulness into daily student life. They provide a literal canvas for students to collaborate and express their views on social justice topics artistically. All completed projects will be hung in prominent places at local high schools or community areas with the goals of promoting ongoing conversation, unity, and action around social justice issues.
Justice Mural Program Components:
Student Engagement: Students will NOT need to be artistic to engage in this project – instead, we want people to speak from their hearts.
Artistic Oversight: We partner with All Good Living Foundation, local muralists, and the Dr. Maya Angelou Foundation, who will take student sketches and translate them into finished artwork.
School Partnerships: Art/Canvas: The mural will be a canvas approximately 8′ by 8′ and feature student pieces. Students submit drawings on 8′ x 12″ paper. Pieces should relate to social justice concepts. Murals will be hung in an area of school prominence. After a month, the murals will move from school to school and proudly display their unique visions for uniting our broader community. We aim to drive student-led projects by providing the method and materials for their voices to be heard.
School Outreach: I also co-founded a national teens volunteer organization with over 675 volunteers called Meaningful Teens. Our network of students would like to be involved in this effort with their respective schools.
Call to Action:
Interested teens and schools should reach out via email to [email protected] to get involved + don't forget to follow Justice Murals on Instagram and Facebook!