Born This Way Foundation is very excited to announce our second Youth Advisory Board! We cannot wait to work with these bright young minds who will help advise the Foundation on issues facing youth everywhere and serve as ambassadors for our work in their communities and schools. Here's what Lady Gaga herself had to say to them!
These nine diverse representatives come from around the country and embody a wide range of experiences and backgrounds. They are non-profit founders, youth advocates, community organizers, journalists, educators, peer advisors, and entrepreneurs. Their dedication and passion to the Foundation's core mission of promoting kindness and bravery is inspiring.
With their help, Born This Way Foundation will expand our ability to reach youth on line, on the road, and down the street. We recognize that the work of building a kinder and braver world takes time, collaboration, and commitment and these new members of our Youth Advisory Board will be essential to accomplishing those goals.
Meet our new Youth Advisory Board Members:
Simone Bernstein
Simone, a native of St. Louis, Missouri, was inspired to become involved with community service after seeing the outpouring of support her family received when her dad was deployed. Simone and her brother launched VolunTEEN Nation, a national youth-led nonprofit which has connected more than 93,500 youth with service projects. Simone, who is also on the Board of Directors of Youth Service America, has spoken at numerous conferences throughout the world and has a column at the Huffington Post. She was a 2010 L'Oreal Paris Woman of Worth, one of the 2013 Forbes 30 under 30 Social Entrepreneurs, one of Glamour's 2013 Top 10 College Women, and a 2014 Traditional Home Magazine Classic Woman. Simone sees service and volunteering as key to combining classroom learning with hands-on problem solving in the community.
Adejire Bademosi
Adejire is a Public Policy and Community Outreach Fellow at Twitter. A Maryland native, Adejire has been a youth advocate for over 15 years. In 2008, Adejire became the first African American woman elected as a student to the Howard County School Board. During her tenure, Adejire increased youth participation in policy committees and advocated for testing reform – efforts which were recognized by TIME magazine. Adejire has also launched FoundHER to support the leadership potential of high school and college women through workshops and mentorship in Boston and New York and has served as a member of the State Farm Youth Advisory Board and as a member of the Brookings Institution Global Citizenship Learning Metric Task Force 2.0. She has been named one of the "24 Under 24 Youth Changemakers" in the United States.
Daniella Cohen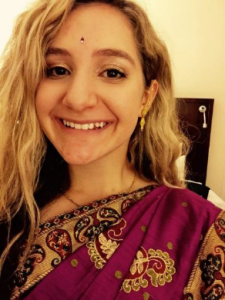 Daniella, a rising junior at Highland Park High School in Illinois, is the co-founder of GIVE. The project funds and installs internet, films educational peer to peer videos, and sends computers, letters, and flip flops signed with messages of hope to schools in India, Uganda and Rwanda. Daniella has spoken at TEDxRedmond about "The Evolution of Lunch Tables," School 21 in London, the Harvard College Social Innovation Collaborative, and Northwestern University's "Opportunities for the Future" conference. She has also led Ashoka's Youth Venture workshops at George Washington University and Marquette University. Daniella has received several awards including the Princeton Prize in Race Relations, Build-A-Bear's Huggable Hero, Prudential's Spirit of Community Award, and was a finalist for the Gloria Barron Prize. She was featured in "30 International Social Entrepreneurs," a documentary by GoYoung and was awarded an Honorable Mention in the White House Student Film Festival for her documentary film "The Impact of GIVE: White House Student Film Festival 2015."
Ola Ojewumi
Ola works for a federal agency in Washington, D.C. She is also a contributor for the Huffington Post and her writings have been published by the White House, Marie Claire Magazine, and the American Association of University Women. She founded two nonprofits, Sacred Hearts Children's Transplant Foundation and the Project ASCEND College Scholarship Program, after receiving a heart and kidney transplant. These efforts have been recognized by the White House, MTV, Glamour, Intel, Essence, and the Huffington Post. Additionally, Glamour has named Ola among the top 10 most influential college women in the United States. Ola previously interned for the White House, Congresswoman Nancy Pelosi, the Democratic National Committee, and Congressmen Albert R. Wynn. Additionally, she has served as Public Policy and International Affairs Fellow at the University of California, Berkeley and as a DNC Hope Fellow.
Dennis Ojogho
Dennis is a Los Angeles native studying Government at Harvard College. The son of Nigerian immigrants, he is passionate about addressing social justice issues, including mass incarceration, voter disenfranchisement, and education inequality. He has served as an editorial writer for The Harvard Crimson and volunteers as a citizenship tutor, working one-on-one with recent immigrants to help them pass the U.S. Naturalization Test. Dennis ultimately hopes to return to his community to help effect positive social change as a civil rights lawyer.
Jessica Ou
Jessica is a junior at UC Berkeley studying Business and Social Welfare. She is particularly interested in youth empowerment and gender equity. She has served as a volunteer and peer educator for the Gender Equity Resource Center on campus, where she spread awareness about LGBTQ issues. She also serves on the Youth Advisory Council of the Crisis Text Line, the world's first 24/7 text-only crisis line for teens. She is also involved in various organizations ranging from Youth Service America to the International Youth Council, striving to empower youth to believe that they have the power to make change.
Gillian Parker
Gillian is a rising high school senior from California. Her mother introduced her and the rest of her family to the importance of giving back with their annual family foundation meetings where the Junior Board Members give grants and visit a local non-profit to see their impact. Gillian has traveled to Ecuador with other inspiring youth leaders and started a micro-lending business in her host community there. Drawing on her personal experiences – including her father's suicide – and her passion to improve mental health, she also started her own club to empower her peers and a Shame Share project to pull others out of fear and silence.
Renee Pelletier
Renee is a rising freshman at Mt. Holyoke College. When she turned twelve, she started to volunteer at her local community center, providing free childcare for parents who were studying to pass their GEDs, and she is still involved today. In her junior year of high school she found the courage to come out of the closet and joined her high school's Gay-Straight Alliance. She has also become an administrator on the Facebook page Have a Gay Day, a member of the Reconciling Congregations Methodist movement, and a student on the leadership council for the Massachusetts Gay Straight Alliance Network. Through her work with LGBT youth, she recently earned the Elsie Frank Scholarship from the Greater Boston PFLAG.
Christopher Rim
Christopher, a current psychology major at Yale University, has had an entrepreneurial spirit since the age of 13. After recognizing problems of access for key societal needs, Christopher became interested in designing and building structures to improve community life and access to services. In 8th grade, Christopher founded a tutoring company, Prestige Review Group, which was acquired by a Shanghai-based consulting firm in 2014. At 15, he started the national anti-bullying nonprofit, It Ends Today, Inc., after the suicide of a family friend. He currently oversees over 350 active volunteers in six different countries and is also responsible for facilitating visits to over 400,000 students and counselors every year. Christopher was the state and national recipient of the AXA Equitable Scholarship and has been featured in TIME Magazine, Forbes, Good Morning America, the TODAY Show, and the Huffington Post.